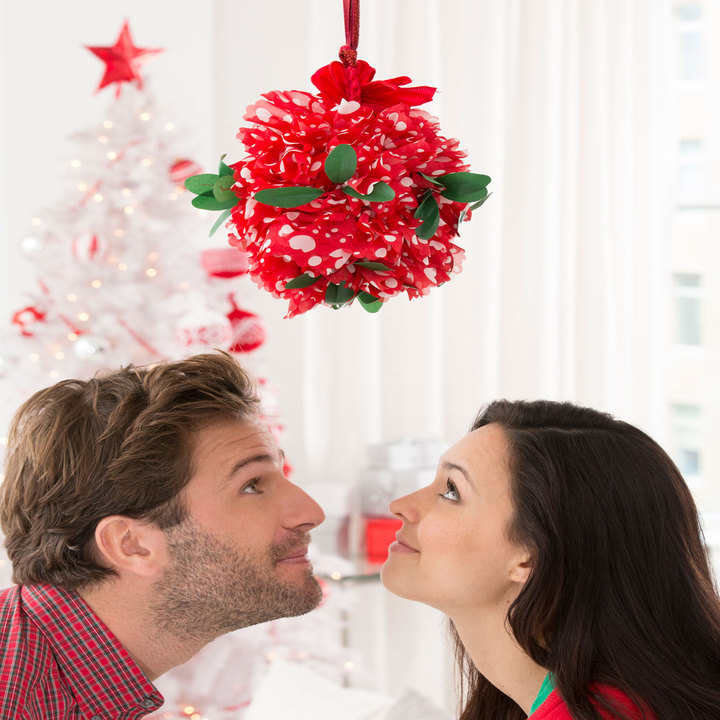 From RedHeart.com
Holiday Kissing Ball
Encourage Santa to kiss mama under the mistletoe with this quick and crafty Kissing Ball. It's the perfect way to add a spark of color and softness to your Christmas decorating.
Pattern#: LW4379
Designed by: Red Heart Design Team
Project Type: Seasonal, Home Decor, Christmas
Required Supplies:
RED HEART® Boutique Sassy Fabric™: 1 hank 9934 Red Dot
RED HEART® Super Saver®: small amount 319 Cherry Red
Susan Bates® Crochet Hook: 6mm [US J-10]
Additional Supplies Needed:
4" (10 cm) diameter Styrofoam® ball, faux mistletoe (use bunch of mistletoe and cut it into smaller sprigs), straight pins, ribbon bow (optional), glue
GAUGE: Gauge is not important for this project.
2. Pin scarf to ball going in vertical rows so that you only have one layer of ruffles covering the whole ball, see Photo A.
3. Pin sprigs of mistletoe around the ball, see Photo B.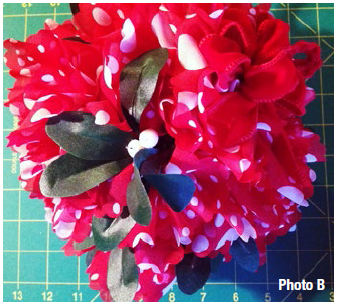 Hanging Loop
Using a yard or so of yarn, crochet a chain and then do a row of single crochets into chain. Pin to top of ball and secure with a dab of glue.

Download/Print