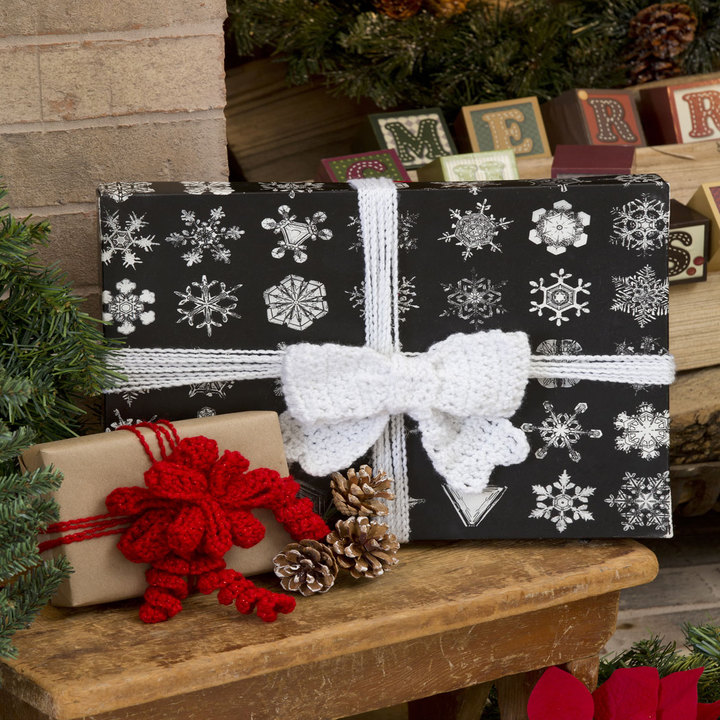 From RedHeart.com
Glamour Gift Bows
Make the gift even more special with bows and ribbons you make! Just the holiday touch needed to show someone how much you care.
Project #: LW3182
Designed by: Michele Wilcox
Project Type: Seasonal, Christmas
Skill Level: Easy
Required Supplies:
RED HEART® Holiday®: 1 skein 9090 Red/Red A and 140 White/ Silver B
Susan Bates® Crochet Hook: 4mm [US G-6]
Yarn needle
Additional Supplies Needed:
Double-sided tape or hot glue gun
GAUGE: Gauge is not essential for this project.
Red bow measures approximately 4" (10cm) wide; white bow measures approximately 6" (15cm) wide.
RED BOW
Center Rosette
[With A, ch 14, dc in 3rd ch from hook and in each ch across, fold in half and sc through first and last dc to join] 10 times—10 loops.
Fasten off. Draw tail through all 10 sc and pull tightly to form rosette. Secure.
Curls
[With A, ch 20, 3 sc in 2nd ch from hook and each ch across] 3 times. Sew behind bow.
WHITE BOW
With B, ch 9.
Row 1: Sc in 2nd ch from hook and each ch across, turn—8 sc.
Row 2: Ch 3 (counts as first dc), dc in each sc across, turn—8 dc.
Row 3: Ch 1, sc in each dc across, turn.
Rows 4 – 29: Repeat rows 2 and 3 for pattern.
Fasten off, leaving a long tail for sewing. Fold in half and sew first and last rows tog (center seam of bow).
Tie Ends (make 2)
With B, ch 9.
Rows 1 – 7: Repeat Rows 1 – 7 of bow.
Row 8: Ch 4 (counts as tr), tr, dc, hdc, (slip st, hdc) in next st, dc, 2 tr. Fasten off. Sew each tie to center back of bow.
Knot
With B, ch 6.
Rows 1 – 9: Work same as Rows 1 – 9 of bow—5 sts. Fasten off, leaving a long tail for sewing. Wrap around center of bow and sew in place.
FINISHING
Weave in ends. Tape, glue or tie to package.
ABBREVIATIONS
Ch = chain; dc = double crochet; hdc = half double crochet; sc = single crochet; sl st = slip stitch; st(s) = stitch (es); tr = treble crochet; [ ] = work directions in brackets the number of times specified; * = repeat whatever follows the * as indicated.