#99 Passion Flower Dishcloth – Maggie Weldon Maggies Crochet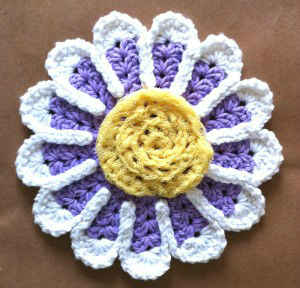 Saturday April 9, 2011 – Debbie is a wonderful women who frequents our shop. She does the most beautiful tatting and she is an avid crocheter. On one of her visits a few weeks ago she gave me this dishcloth for the Dishcloth-a-Day Challenge. We added the nylon netting scrubbie in the middle.
Thank you Debbie for all the things you do for us and for contributing to our challenge. Follow me onto dishcloth 100!
This pattern is now in the Floral Dishcloth Crochet Pattern Set which is available for mail or download here: http://www.maggiescrochet.com/products/floral-dishcloth-set-crochet-pattern
This pattern is now available in the new book from Annie's Attic 'A Year of Dishcloths'. Click here to order your copy of this book today: http://www.maggiescrochet.com/products/a-year-of-dishcloths

Download/Print