#146 Rose Granny Crochet Dishcloth – Maggie Weldon Maggies Crochet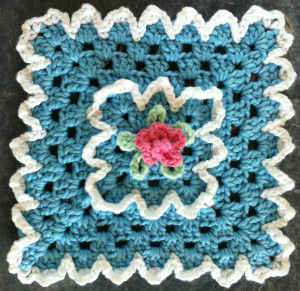 Yesterday we posted the prizes for the Dishcloth-a-Day Challenge. More prizes may be added later when we get sponsorship. Here is a link to the prizes at this point: https://bestfreecrochet.com/dishcloth-challenge/ WE NEED YOUR HELP!
This Granny Rose crochet dishcloth is an example of just how beautiful a granny square can be! I am often teased about the number of times I put rosebuds on my designs. I can't help it. I think it adds such a wonderful touch.
Follow me onto dishcloth #147 and the rest of the story…
This pattern is now in the Floral Dishcloth Crochet Pattern Set which is available for mail or download here: http://www.maggiescrochet.com/products/floral-dishcloth-set-crochet-pattern
This pattern is now available in the new book from Annie's Attic 'A Year of Dishcloths'. Click here to order your copy of this book today: http://www.maggiescrochet.com/products/a-year-of-dishcloths

Download/Print