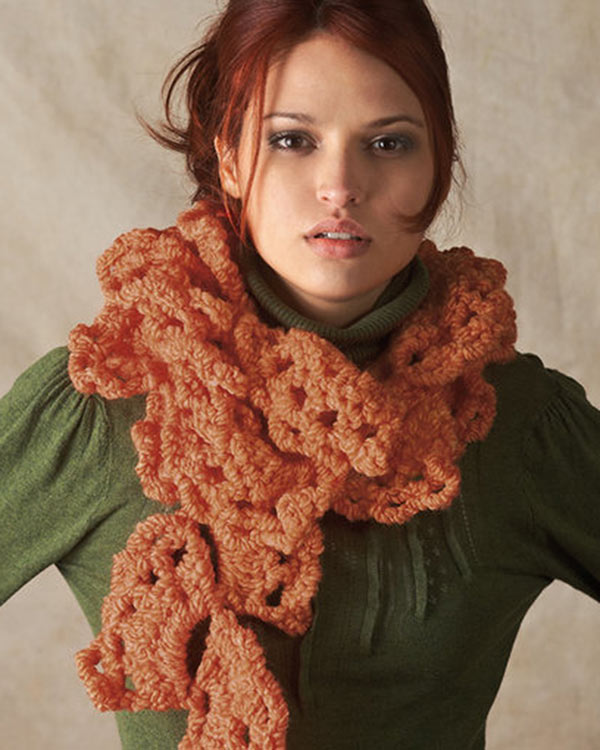 From RedHeart.com
Swirling Fans Scarf
LW2222
Designed By: Unknown
Skill Level: Easy

RED HEART® Boutique™ "Big & Lite™": 3 balls 9332 Rust.Crochet hook: 10mm [US N-15].
Yarn needle.
Scarf measures 8" x 75".
GAUGE: 1 semi-circular motif = 6" across. CHECK YOUR GAUGE. Use any size hook to obtain the gauge.
SCARF
Ch 11, join with slip st to form a ring.
Row 1:
Ch 3, 11 dc in ring; turn.
Row 2:
Ch 4 (counts as dc and ch 1), skip 1 dc, dc in next dc, [ch 1, skip 1 dc, dc in next dc] 4 times; turn.
Row 3:
[Ch 4, sc in next ch-space] 5 times**, ch 5, sc into initial ring; turn.
Row 4:
Ch 2, 11 dc in ch-5 space from previous round; turn—11 dc.
Row 5:
Repeat row 2.
Round 6:
Repeat row 3, working last sc into the ch-5 space of preceding motif.
Repeat rows 4-6 for pattern, until piece measures about 75", ending at **.
Fasten off. Weave in ends.
ABBREVIATIONS:
ch= chain;dc= double crochet;mm= millimeters;sc= single crochet;
st(s)= stitch(es);*or**= repeat whatever follows the * or ** as indicated.