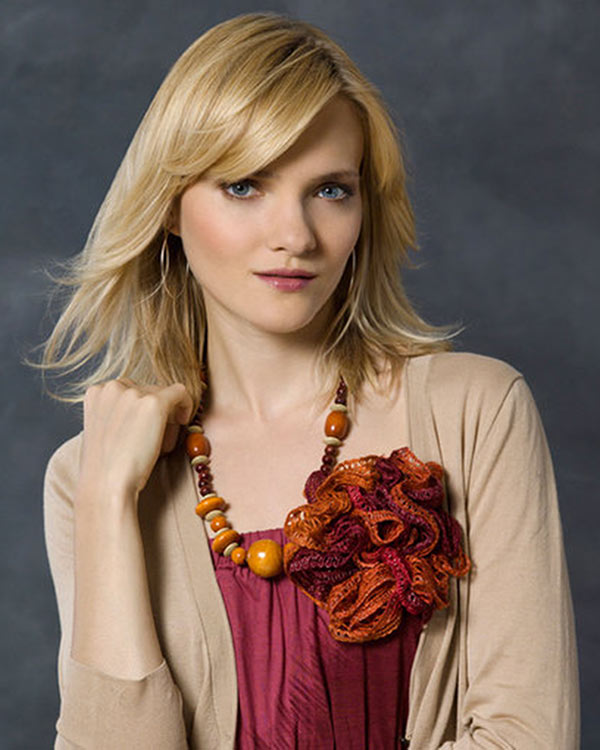 From RedHeart.com
Ruffly Big Bloom
LW2746
Designed By: Red Heart Design Team
Skill Level: Beginner

RED HEART® Boutique™ Sashay™: 1 ball Salsa 1949 A.
RED HEART® Soft: 1 ball 9275 Paprika B.
Crochet Hook: 5.5mm [US I-9]
Yarn needle
Flower measures 6½" diameter
GAUGE: Gauge is not important to this project.
Ruffled Chain
Stretch out a length of A (continue to stretch out area before you work it). Insert hook into edge of A without the metallic and form a chain that is 16" long using the Sashay crochet chain method in the video.
Row 1:
Sc along side of the chain.
Place stitch holder in last stitch to keep it from unraveling, and set aside.
Circular Base
Ch 6; Join.
Round 1: 9 sc in center.
Round 2: 2 sc in each sc—18 sc. Join.
Round 3: 2 sc in each sc—36 sc; join, leaving a 21" for sewing.
Thread an 18" length of yarn B into needle. Starting at outer edges, sew ruffled chain around circular base. Continue to spiral toward center filling in all areas, and securing with small stitches as you go. Take small stitches to secure; weave in ends.
ABBREVIATIONS:
A= Color A; B= Color B; ch= chain.

Download/Print