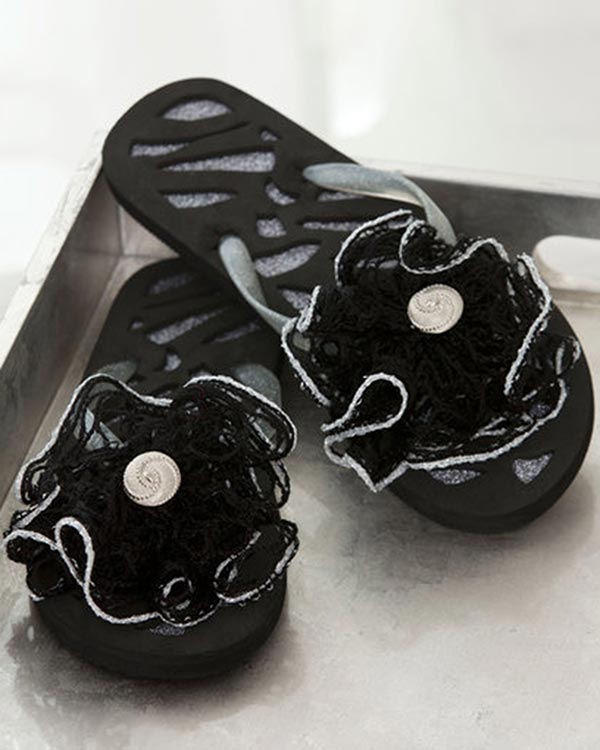 From RedHeart.com
Glam Flip Flops
LW3771
Designed By: Stephanie Girard
Skill Level: Beginner
RED HEART® Boutique Sashay Sparkle™: 1 ball of 1012 Noir
1 pair of Flip Flops
Yarn needle
Two 1" (2.5 cm) buttons
Sewing needle and matching thread
Flip Flop
– Cut 2 lengths of yarn that measure 1½ yds each.
– Cut a 12" (30.5 cm) length of yarn and thread it into yarn needle.
– Sew a running stitch through holes on edge of 1½ yd length along non-glitter edge. Pull yarn needle tight, gathering the length into a circular ruffle. Bring the two ends together and stitch with sewing needle and thread.
– Repeat for second 1½ yd length.
– Thread sewing needle with a length of matching thread. Using photo as a guide, sew button to center of ruffle.
– Sew ruffle to center of Flip Flop strap.
– Repeat for second Flip Flop.
ABBREVIATIONS
cm = centimeter; mm = millimeter; st(s) =
stitch(es); yd(s) = yard(s).
Be sure to…
Visit my Website
Join me on Facebook
Subscribe to the Maggie Weldon YouTube Channel for more crochet lesson videos
Subscribe to Maggie's Crochet YouTube Channel for product reviews
Sign Up for My Newsletter
Follow us on Pinterest
Follow us on Twitter

Download/Print