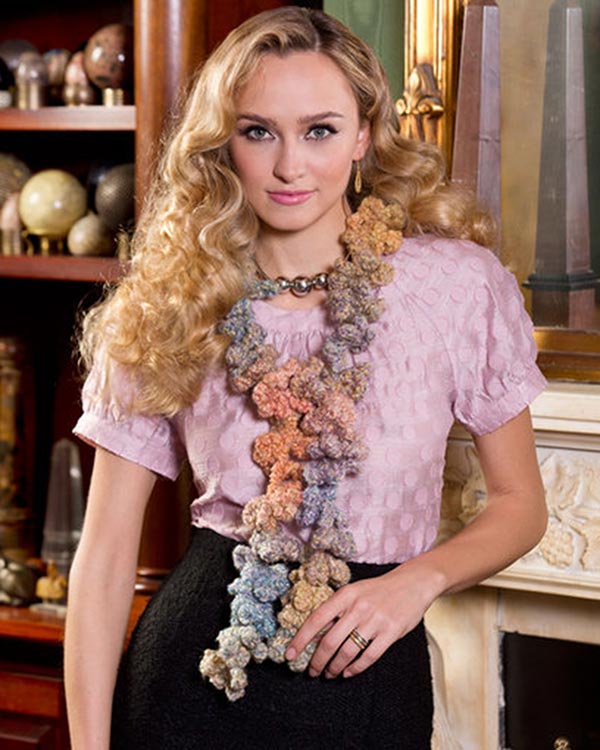 From RedHeart.com
Chain of Flowers
LW3641
Designed By: Darla J. Fanton
Skill Level: Easy
RED HEART® Stellar™:
1 ball 9201 Galaxy
Crochet Hook:
10mm [US N-13]
Yarn needle
Scarf measures 3" wide x 61" long (7.6 x 155 cm)
GAUGE:
Gauge is not important for this project.
NOTE:
Each flower is created by working a group of ch-5 petals in the same place. Each Flower is connected to the next with a dc.
SCARF
Row 1:
Ch 6, slip st in 6th ch from hook, [ch 5, slip st in same ch] 4 times— 5 ch-5 loops.
Row 2
: Ch 4, dc in 4th ch from hook, turn—1 dc.
Row 3:
[Ch 5, slip st in dc] 5 times—5 ch-5 loops.
Rows 4–85 (or until desired length is  reached)
: Repeat Rows 2–3, ending last repeat with Row 3. Fasten off.
Weave in yarn ends.
ABBREVIATIONS
ch = chain; cm = centimeters; dc = double
crochet; mm = millimeters; st(s) = stitch(es);
yo = yarn over; [ ] = work directions in
brackets the number of times specified; * or
** = repeat whatever follows the * or ** as
indicated.
Be sure to…
Visit my Website
Join me on Facebook
Subscribe to the Maggie Weldon YouTube Channel for more crochet lesson videos
Subscribe to Maggie's Crochet YouTube Channel for product reviews
Sign Up for My Newsletter
Follow us on Pinterest
Follow us on Twitter