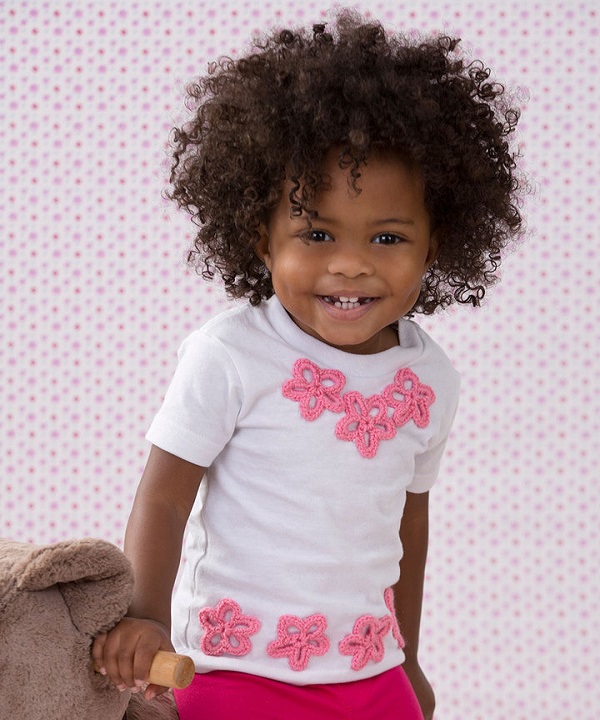 From www.redheart.com
Baby Tee Flower Appliques
Take a plain T-shirt and add some easy-to-crochet flowers. It's a fun, unique look for a little fashion diva-in-training.
Pattern #: LW4137
Designed by: Kristen Stoltzfus
Project Type: Baby/Child Apparel
Skill Level: Easy
Required Supplies:
RED HEART® Baby Sheen™: 1 ball 700 Pink (E795 Baby Sheen is discontinued)
Susan Bates® Crochet Hook: 3.5mm [US E-4]
Yarn needle
Additional Supplies Needed:
Toddler's size T-shirt; Pins; Sewing needle; Sewing thread to match T-shirt
GAUGE: Rounds 1-2 measure 2″ (5 cm) in diameter. CHECK YOUR GAUGE. Use any size hook to obtain the gauge.
Applique measures 2" (5 cm) in diameter
FLOWER APPLIQUE (Make 7)
Ch 4, join with slip st to form ring.
Round 1 (Right side): Ch 1, [sc in ring, ch 7] 5 times; join with slip st in first sc — 5 sc and 5 ch-7 loops.
Round 2: Slip st in first ch-7 loop, ch 1, (4 sc, hdc, ch 1, hdc, 4 sc) in each ch-7 loop around; join with slip st in first sc — 5 petals. Fasten off; weave ends in.
FINISHING
Block Flower Appliques. Referring to photo for placement, pin Flower Appliques to T-shirt and sew in place using needle and thread, stitching slightly underneath the edges of the petals to hide the thread.
ABBREVIATIONS
ch = chain; cm = centimeters; hdc = half double crochet; mm = millimeters; sc = single crochet; st(s) = stitch(es); [ ] = work directions in brackets the number of times specified.
Be sure to…
Visit my Website
Join me on Facebook
Subscribe to the Maggie Weldon YouTube Channel for more crochet lesson videos
Subscribe to Maggie's Crochet YouTube Channel for product reviews
Sign Up for My Newsletter
Follow us on Pinterest
Follow us on Twitter

Download/Print