#65 Round Sunshine Crochet Dishcloth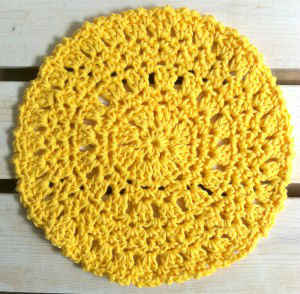 This Sunshine dishcloth was designed by Lori Zeller. She has been crocheting for 35+ years. Her favorite projects are 'little things' that can be completed in a relatively short period of time. Lori also enjoys anything in thread with a delicate look, but ultimately, anything she can wrap around a crochet hook is fair game for her! I have had many designs published and would like to continue to have many more of my designs published.
Thank you Lori for sharing your design with fellow crocheters and for taking part in the Dishcloth-a-Day Challenge.
Follow me onto dishcloth #66 and the rest of the story…
Enjoy the Round Sunshine Dishcloth and other patterns in the Crochet In The Round Dishcloth Set

Download/Print