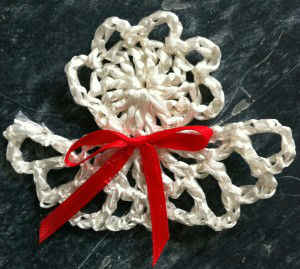 Raffia is a fiber from the giant leaves of a palm tree found in Madagascar. The raffia used in these ornaments is Rayon.  It is available through Nashville Wraps. Raffia Ribbon, in shiny pearlized colors on 100 yard rolls, is made from convenient rayon for elegant gift packaging. So you can crochet with the raffia and also use left overs for packages.
Consider crocheting these designs in natural raffia for a more eco-friendly version.
Raffia Angel Head Ornament
FP345
Designed By: Maggie Weldon
Copyright 2010 Maggie Weldon
Skill: Easy
Size: About 4" wide and 3" long
Materials: Raffia Pearl (Nashville Wraps Wraphia): White
Crochet Hook: Size G-6 (4.25 mm).
HEAD
Rnd 1: (Right Side) Starting at center, ch 4, 15 dc in 4th ch from hook (skipped sts count as first dc); join with sl st to first dc. (16 dc)
Row 2: (Ch 4, skip next dc, sl st in next dc) 5 times, sl st in next 3 dc. DO NOT FINISH OFF.
WINGS
Row 1: Ch 5 (counts as first tr and ch 1), (dc, ch 1) 3 times in same st as last sl st, (dc, ch 1) 3 times in next dc, tr in same dc again. (8 sts)
Row 2: Ch 7, turn (counts as first tr and ch 3), dc in first tr, (ch 3, dc in next dc) 2 times, ch 2, (sc in next dc, ch 2) twice, (dc in next dc, ch 3) twice, (dc, ch 3, tr) in last tr. Finish off and weave in ends.
All Rights Reserved ©2010 Maggie Weldon
Enjoy,
Maggie