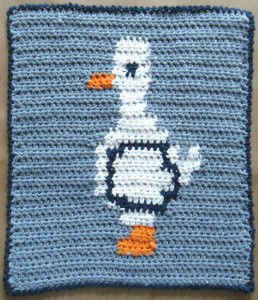 SATURDAY SEPTEMBER 24, 2011
Follow me onto #268 & the rest of the story…
Designer Teresa Petrino wrote: " This dishcloth was created as a simple practice for following a chart. My hubby helped me figure out how to use Excel and this is what I used to design my chart. It's funny how the image is so distorted on Excel, but in crocheting my duck image, the duck came out exactly how I wanted. It's nice for a big cloth for big messes in the kitchen and perfect for a duck or bird lover."
Thank you Teresa for joining the Dishcloth-a-day challenge!
Just Ducky Dishcloth
Original Design by Teresa Petrino
Copyright 2011 Maggie Weldon
Skill: Intermediate
Size: About 11" wide and 13" long.
Materials: Worsted Weight Cotton: Grey – 4 oz, 200 yd (120 g, 184 m) White – 1 oz, 50 yd (30 g, 46 m) Navy – 1 oz, 50 yd (30 g, 46 m) Orange – ½ oz, 25 yd (15 g, 23 m) (Sugar 'n Cream – Stonewash, White, Indigo, Hot Orange)
Crochet Hook: Size G-6 (4.25 mm)
To Change Colors
Work last stitch before color change to last step, with new color, yo and pull new color through remaining lps on hook. Drop unused color to wrong side. Do not work over unused color.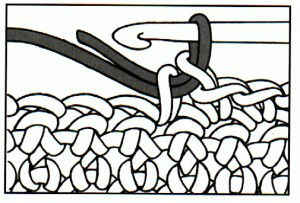 JOINING WITH SC
When instructed to join with sc, begin with sl knot on hook, insert hook in st or sp indicated, yo and pull up a loop, yo and draw through both loops on hook.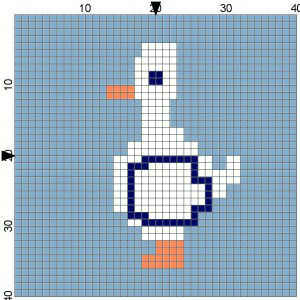 NOTES FOR COLOR CHART
– Each block represents one half double crochet in one row.
For right-handers:
– Odd numbered rows are worked from right to left.
– Even numbered rows are worked from left to right.
For left-handers
– Odd numbered rows are worked from left to right.
– Even numbered rows are worked from right to left.
DISHCLOTH
Teresa's Tips: Must be able to read a graph chart, and be able to carry yarn to do this pattern. The more capable of carrying colors, the least amount of ends you will have to neaten and weave in. The graph is done in three colors, so it is very simple to follow, and handy for those who wish to practice their graph-reading skills. The duck image is seen from both sides as right sides. I have even chosen the trim (reverse sc/crab stitch) with this in mind. The cloth can be flipped either way.

Row 1: (Graph Row 1) With Grey, ch 41, hdc in 3rd ch from hook (skipped 2 ch count as first hdc), hdc in next 38 ch. (40 hdc)
Rows 2-40: Following graph for color changes, ch 2 (counts as first hdc now and throughout), turn, [hdc in next hdc] across. (40 hdc)
At the end of Row 40, finish off and weave in all ends.
Trim
Rnd 1: Join Navy with sl st to bottom corner of Row 1, evenly work reverse sc (crab stitch) all the way around, working 3 rev-sc in each corner; join with sl st to first sc. Finish off and weave in ends.
All Rights Reserved ã2011 Maggie Weldon
Enjoy,
Maggie
Visit: Maggiescrochet.com
Join Me on Facebook